« Back to Calendar
Art Centro Hosts Community Maker Days: Community Clay Day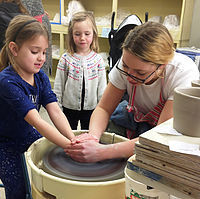 Community Maker Days meet the third Saturday of every month at one of our three studios. Join us each month for basic instruction in clay, textiles, or print-making. 
Participate in at least one event from each studio for the chance to win a free class!  Drawing to take place December 2019.
Space is limited, early arrival is encouraged!  Collect a stamp at each event you attend.
Next Event:  February 16th at PUF Studios
Featured Events
Newest Events
Events at this Location
There are no upcoming Events at this location