« Back to Calendar
Stormville Airport Antique Show & Flea Market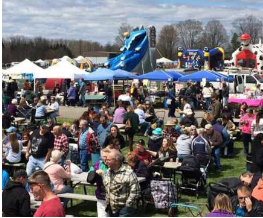 The Stormville Airport Antique Show & Flea Market is a fun, family-friendly atmosphere that draws thousands of shoppers to each show. With acres and acres of merchandise our market offers a wide variety of bargains, treasures, and unique items for everyone.
We offer six shows a year starting in April with our "Springtime in the Country" show and ending with our "Christmas in November, Christmas Shopping" show. Each offers a unique display of goods and services, including a wide variety of food concessions.
Free Parking - No Pets - Rain or Shine
2020 Show Dates: April 25 & 26 "Springtime In The Country", May 23 & 24, July 4 & 5, Sept 5 & 6, Oct. 10 & 11, Nov. 7 & 8 "Christmas in November"
Ultimate Family Yardsale Dates June 20 & September 12 9am -3pm
Food Truck & Craft Beer Festival- TBA
Wine, Cider and Food Truck Festival - TBA
Featured Events
Newest Events
Events at this Location
There are no upcoming Events at this location