« Back to Calendar
Queen City 15 Gallery Artist Talk "From Memory: Paola Bari and Carl Grauer"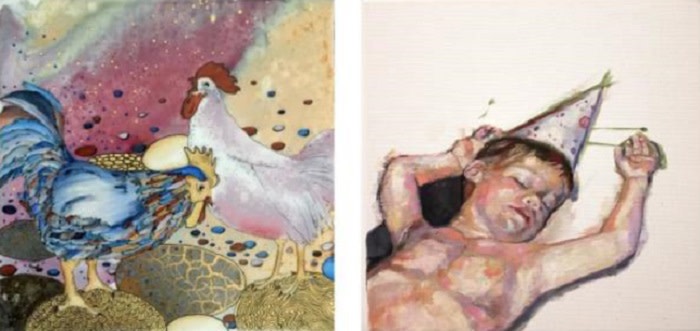 Exhibition Dates: November 1-30, 2019 
Artists' Talk: Saturday, November 16, 5-6pm 
Queen City 15 Gallery is showing "From Memory", an exhibit featuring a collection of new works by Carl Grauer and Paola Bari that plays with the tension between memories, the past and the present.
Both artists have their personal interpretation of memories are affecting our daily life.
Carl artworks play with the tension between memories, the "return to home", and past. "It is an idea that I explore through the renderings of narratives found in memories and dreams. I initially began with source imagery of found slides and photos of people I find at flea markets, second hand stores or from my own family's collection. I take the source imagery and reference specific moments that could be seen as memories that are remembered or forgotten. I aim to represent dreamlike scenes that may relay a story of sorrow or humor that could be constructed memories or actual experienced events. The exact narrative may be forgotten or unknown, but I enjoy the play between dream, reality and story telling."
Paola's collection is dedicated to her mother, a fierce independent, determined woman. From Paola words: "Growing up, she taught us that the important thing is to believe in our dreams and that we should always have a dream. She taught us that real independence doesn't come because someone is a woman or a man, it comes from being able to economically sustain ourselves".  My paintings reflect how I remember my mother, telling her story through the recipes of her personal handwritten cooking book"
Featured Events
Newest Events
Events at this Location
There are no upcoming Events at this location