« Back to Calendar
Science Lab: Paper Planes and Toy Helicopters at Mid-Hudson Children's Museum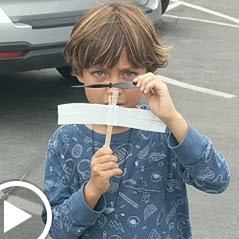 Up, up and away! We'll learn the four forces of flight – lift, drag, gravity and thrust as we launch paper airplanes on the Museum's airplane launcher. We'll then build rubber band helicopter toys that fly more than 50 feet into the air!

Science Lab Workshops invite children and adults to get creative and explore concepts in STEM (Science, Technology, Engineering and Math). This workshop is designed for children ages 4 – 6 and their parent/caregiver. There is a different workshop theme each week during the summer!

Summer Workshops – We are offering exciting workshops this summer all about science, ecology, art and food. When each workshop is finished children will get to make a pin-on button showing what they learned. Children are encouraged to wear their buttons every time they come to the museum. For every 4 buttons collected, children will get $4.00 off a purchase of $5.00 or more at the Museum Store.
Featured Events
Newest Events
Events at this Location
There are no upcoming Events at this location