« Back to Calendar
Joseph Bertolozzi's Bridge Music 10th Anniversary Celebration!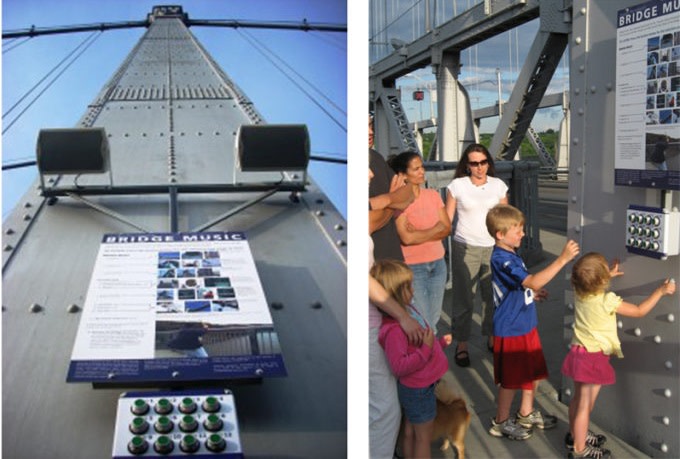 Celebrating a Decade of Music!  See each event for address information
Free and open to the public for ten years, Bridge Music has been and remains a touchstone of internationally recognized public sound-art.
2pm Re-Dedication and Tour of the Bridge Music Installation with Composer Joseph Bertolozzi
Johnson-Iorio Park, 281 Haviland Rd, Highland, NY 12528
We begin with a festive ribbon cutting. That is followed by a tour led by Bertolozzi out to the Listening Station on the west tower of the Bridge itself where the public can play along to the music with supplied drumsticks.
5:30pm – Bridge Music in Film & PrintVassar Temple, 140 Hooker Avenue, Poughkeepsie, NY 12601
Screenings, commentary and Q&A examining films and books about Bridge Music with Joseph Bertolozzi, the film makers themselves and music professionals providing context to Bridge Music's place in music history. Story Screen
9pm – The Bridge Music Light Show on the Mid-Hudson Bridge
Tune in to Q92.1 FM from anywhere you can see the Mid-Hudson Bridge and watch the lights on the bridge change color and pulse to the rhythms of Joseph Bertolozzi's Bridge Music.
or
Join the live broadcast from the Walkway Over the Hudson.
WHAT TO DO IN BETWEEN THESE EVENTS?  Check the website for updates, special restaurant deals between these events and more!
Featured Events
Newest Events
Events at this Location
There are no upcoming Events at this location