« Back to Calendar
Tales From The Underground - A Costumed Living History Tour at Rhinebeck Cemetary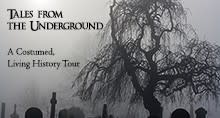 October 13, 14 & 20 & 21
It's like theatre...in the cemetery.
The CENTER for Performing Arts at Rhinebeck and Friends of Rhinebeck Cemetery, Inc present Theatre on the Road's Tales from The Underground - A Costumed Living History Tour.
AT RHINEBECK CEMETERY - Enter via Mill Road Cemetery Gates
3 Mill Rd, Rhinebeck
Appropriate For All Audiences.
Featured Events
Newest Events
Events at this Location
There are no upcoming Events at this location