« Back to Calendar
County Players Presents "Exit Laughing"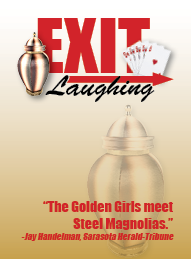 February 1, 2, 8, 9, 10, 15, 16, 2019
When the biggest highlight in your life for the past 30 years has been your weekly bridge night with the "girls," what do you do when one of your foursome inconveniently dies? If you're Connie, Leona and Millie, three southern ladies from Birmingham, you do the most daring thing you've ever done. You "borrow" the ashes from the funeral home for one last card game, and the wildest, most exciting night of your lives involves a police raid, a stripper and a whole new way of looking at all the fun you can have when you're truly living. Winner of the AACT NewPlayFest 2014.
Date:
Friday, Feb 8th, 2019
Time:
8:00 pm - 11:00 pm
Cost:
See website for details
Contact Phone:
(845) 298-1491
Contact URL:
http://countyplayers.org/
Location:
County Players Falls Theatre
2681 W. Main St.
Wappingers Falls, NY 12590
Weather:
Click here for 12590 forecast
Map:
Featured Events
Newest Events
Events at this Location
There are no upcoming Events at this location