« Back to Calendar
Center for Performing Arts at Rhinebeck -"Ghost The Musical"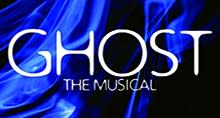 Oct. 12 - 28 8pm Fri & Sat 3pm Sun
Tickets: $27 / $25
Based on the 1990 Oscar winning film starring Demi Moore, Patrick Swayze and Whoopi Goldberg, a romantic classic which broke box office records.  Ghost the Musical is a timeless fantasy about the power of love. Longtime couple Sam and Molly are happily in love and living together in Brooklyn. Walking back to their apartment one night, they are mugged at gunpoint, leaving Sam murdered on a dark street. Sam is trapped as a ghost between this world and the next and is unable to leave Molly--- who he quickly learns is in grave danger. With the help of a storefront psychic named Oda Mae Brown, Sam tries to communicate with Molly in the hope of protecting her. Featuring such popular songs as "Here Right Now," "With You" and the Righteous Brothers' classic "Unchained Melody."
Appropriate For All Audiences.
Featured Events
Newest Events
Events at this Location
There are no upcoming Events at this location