« Back to Calendar
"Rehearsing for Oscar" at Center for Performing Arts at Rhinebeck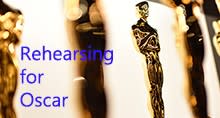 Jan. 11 - 13
8pm Fri & Sat and 3pm Sun
Tickets: $24 / $22
Sometimes riotous, sometimes touching, but always engaging, Rehearsing for Oscar is a series of vignettes featuring actresses old and young, rich and poor, successful and not, who dream of Hollywood's coveted award.

Written by Rhinebeck's Roselee Blooston, author of the best-selling memoir "Dying in Dubai," and directed by Emily DePew for CENTERstage productions.
May Not Be Appropriate for Young Audiences.
Featured Events
Newest Events
Events at this Location
There are no upcoming Events at this location