« Back to Calendar
County Players Presents CP2 Readers Theatre "The Weir"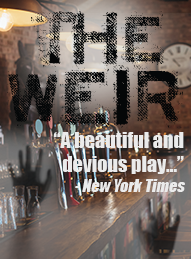 The Weir is part of our new CP2 Readers Theatre series. Click for more info
Written by Conor McPherson
December 1, 2, 2018
Saturday at 8pm & Sunday at 2pm
In a bar in rural Ireland, the local men swap spooky stories in an attempt to impress a young woman from Dublin who recently moved into a nearby "haunted" house. However, the tables are soon turned when she spins a yarn of her own.
Next in this series:  Yankee Tavern Written by Steven Dietz March 2, 3, 2019


Date:
Sunday, Dec 2nd, 2018
Time:
2:00 pm -
Cost:
All seats $10 purchased at the door (no reserved seating)
Contact Phone:
(845) 298-1491
Contact URL:
http://countyplayers.org/
Location:
County Players Falls Theatre
2681 W. Main St.
Wappingers Falls, NY 12590
Weather:
Click here for 12590 forecast
Map:
Featured Events
Newest Events
Events at this Location
There are no upcoming Events at this location