« Back to Calendar
VIRTUAL: Treasury Cidery Virtual Tour as part of Cider Week Hudson Valley 2020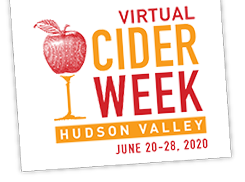 Hudson Valley Cider Week 2020 is going virtual this year!
Join Josh Morgenthau, owner & head cider maker, and Rohan Chamberlain, the orchard manager of Treasury Cider on a virtual tour of their orchards at Fishkill Farms.
Register for the virtual tour here. 
Dont' forget to pick up cider beforehand to enjoy on the virtual tour from the comfort of your home - find out how! 
Featured Events
Newest Events
Events at this Location
There are no upcoming Events at this location