« Back to Calendar
Discover Hudson Valley Bike Ride Hosted by Bike New York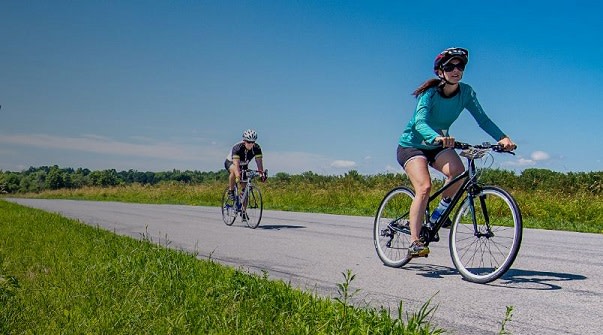 This beautiful region is waiting to be discovered by you!  Bike New York hosts its annual fully supported Discover Hudson Valley Bike Ride.
The Discover Hudson Valley Bike Ride kicks off with five fantastic routes, each beginning and ending in Victor C. Waryas Park in Poughkeepsie, NY, right next to the Metro-North train station. You won't want to miss the incredible panoramic view and stunning scenery as you pedal your way across the Walkway Over the Hudson.
There are five routes, the longest at 100 miles in length. At the finish you'll enjoy BBQ-style concessions, homemade pies and lots of fun! All participants receive a commemorative T-shirt.
the Discover Hudson Valley Ride kicks off with five fantastic routes and stunning scenery.� You won't want to miss the incredible panoramic view as you pedal your way across the Walkway Over the Hudson.� At the finish you'll enjoy BBQ-style concessions, homemade pies and lots of fun!� All participants receive a commemorative T-shirt.� - See more at: http://bikenyc.org/event/2308#sthash.SA3uIpny.dpuf
the Discover Hudson Valley Ride kicks off with five fantastic routes and stunning scenery.� You won't want to miss the incredible panoramic view as you pedal your way across the Walkway Over the Hudson.� At the finish you'll enjoy BBQ-style concessions, homemade pies and lots of fun!� All participants receive a commemorative T-shirt.� - See more at: http://bikenyc.org/event/2308#sthash.SA3uIpny.dpuf
Featured Events
Newest Events
Events at this Location
There are no upcoming Events at this location