« Back to Calendar
Dutchess County Volunteer Firemen's Association - 100 Year Celebration for Red Hook and Tivoli Fire Departments with Parade & Fireworks!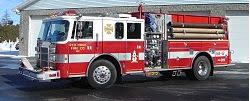 Friday August 16th 4pm - 10pm
Saturday Parade steps off at 5pm
Red Hook Fire Co. & Tivoli Fire Co. have teamed up to celebrate our 100 Year Anniversary!!! Red Hook will be the host of the 73rd Dutchess County Convention. Please join us Saturday for a parade with over 100 fire companies from all different counties. There will be food, beer, entertainment both Friday & Saturday night as well as a FIREWORK celebration on Saturday night.
Saturday
The parade starts at Linden Avenue Middle School (65 West Market Street). It will go up Park Avenue and then continue south on Route 9 and ends at the Red Hook Firehouse.
Please join us after the parade at the firehouse for food trucks, a beer tent, live music, presentation of trophies, and fireworks to end the night. The Plan B Project will be performing and a local radio station will be on site as well.

It will be a great day you won't want to miss!
Featured Events
Newest Events
Events at this Location
There are no upcoming Events at this location