« Back to Calendar
4th Annual Family Fun Festival at Franklin D. Roosevelt Library's Great Lawn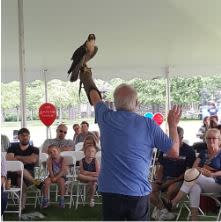 Sensory sensitive museum time, from 8:30 a.m. to 9:30 a.m. (with low lighting and low volume on audiovisual programs) and "Quiet Spaces" throughout the day in the Henry A. Wallace Visitor Center -- in partnership with Dutchess County's ThinkDIFFERENTLY initiative and the Friends of the Poughkeepsie Public Library District (with books for attendees of all ages, charging stations, silent films and an opportunity for attendees to relax and recharge).
At the center of the festival, the Library and Museum will present the FRANKLIN AND ELEANOR ROOSEVELT HUDSON VALLEY VISION AWARD to Hyde Park World War II veteran Ralph Osterhoudt -- at 12:15 p.m. on the Library's Great Lawn.
Activities include a raptor show, performances by the Bindlestiff Family Cirkus, an iHeartMedia live radio broadcast, music with Bossy Frog, "Creatures in the Garden," cider pressing, tinsmithing, a Dutchess County Sheriff's K9 unit demonstration, Hyde Park Fire Department vehicles and displays, artifacts on display, face painting, balloon animals, Discovery Packs (NPS), a petting zoo and food trucks.
Featured Events
Newest Events
Events at this Location
There are no upcoming Events at this location