« Back to Calendar
Jazz at Lincoln Center Summer Jazz Academy Big Band Finale at Bard College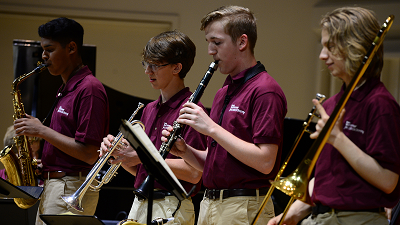 All Jazz at Lincoln Center concerts take place at Olin Hall.
Summer Jazz Academy Faculty - July 20 @ 2pm
Summer Jazz Academy Student Combos - July 21 @ 2pm
Jazz at Lincoln Center All-Stars - July 27 @ 7pm
Summer Jazz Academy Big Band Finale - July 28 @ 1pm
Don't miss Jazz at Lincoln Center's Summer Jazz Academy's final performance with the Clark Terry Big Band and the Milt Hinton Big Band. In this grand finale, culminating two weeks of dedicated study, 42 of the top high school jazz musicians in the country will perform timeless jazz standards selected from across from the past century of jazz. This special performance promises to be a memorable showcase of the immense talent rising up within the next generation of jazz artists.
Featured Events
Newest Events
Events at this Location
There are no upcoming Events at this location