« Back to Calendar
Annual Harvest Party at Millbrook Vineyards & Winery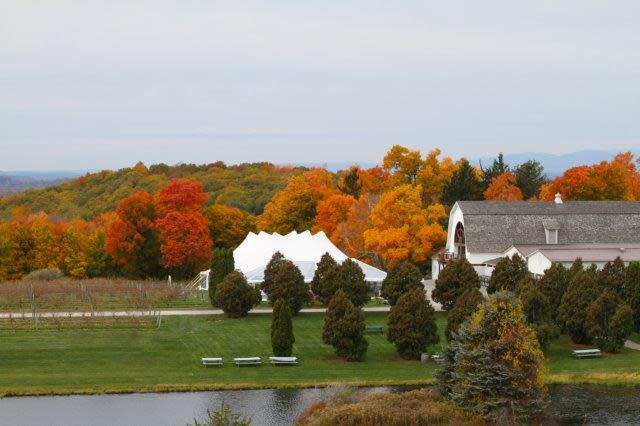 The Harvest Party started out years ago as a group of friends and family who would come to help us harvest grapes. For their generous help, they would be rewarded with a delicious lunch served with Millbrook wine. This luncheon continued to evolve and it has grown into our largest and best known event of the year (and we don't make our guests pick grapes before they eat anymore!) Whether you've come to all our Harvest Parties or have never attended one, we look forward to welcoming you to Millbrook Winery and celebrating another harvest season.
Join us to Celebrate our 34th Anniversary with Crabtree's Kittle House
This Years Menu:

Welcome Reception
Harvest Table of Local Artisanal Cheeses and Crudite of the Fall Harvest with White Bean and Fennel Hummus

Passed Hors D'oeuvres
Mini Jackfruit "Carnitas" Tacos
Tuna Tartare on Crispy Sushi Rice Cake
Pumpkin and Crab Beignets
Shooters of Butternut Squash Bisque

First Course
MX Morningstar Farm Potato Gnocchi
Fresh Crab / Sabayon Brûlèe / Smoked Almond Quinoa Granola / Wild Mustard Greens / Onion Ash
2018 Tocai Friulano Proprietor's Special Reserve

Second Course
Hudson Valley Fisheries Farm Raised Steelhead Trout
Broiled in the Husk of Corn / Wild foraged Chanterelle Mushroom Cream / Popped Wild Hive Farm Garlic Dusted Wild Rice
2017 Castle Hill Chardonnay
2016 Block 5 East Pinot Noir

Third Course
Oaxacan Molè De Res
Molè Negro / Norwich Meadow Farm Wilted Swiss Chard / Common Ground Farm Wax Bean / MX Morningstar Farm Heirloom Sweet Potato
2016 Cabernet Franc Proprietor's Special Reserve

Dessert
Kittle Kat Torte
Crown Maple Smoked Maple Sugar / Wild Huckleberries
2017 Late Harvest Riesling
Please note that during our Harvest Parties the winery is open for regular tours and tastings throughout the event for those planning to visit. 
Featured Events
Newest Events
Events at this Location
There are no upcoming Events at this location