« Back to Calendar
Summer Concert Series at Greenvale Park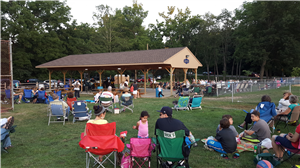 Come on over on Tuesday evenings to enjoy music and dancing.
Beginning June 25th and the last concert is August 6th
June 25th - July 23rd concerts are 7pm - 8:30pm
July 30th & August 6th concerts are 6:30pm - 8pm
June 25 7:00pm Greyhounds 
July 2 7:00pm Thunder Ridge
July 9 7:00pm Crazy Feet
July 16 7:00pm The Mustangs '65
July 23 7:00pm Chain Gang
July 30 6:30pm Harvest Band
August 6 6:30pm Lucky House
Location:  The Pavilion at Greenvale Park, 2260 New Hackensack Road (RT 376), Poughkeepsie.
Rain Location:  The Town of Poughkeepsie Senior Center, 13 Abe's Way, Poughkeepsie.

Featured Events
Newest Events
Events at this Location
There are no upcoming Events at this location