« Back to Calendar
Howland Chamber Music Circle Presents Ying Quartet with Zuill Bailey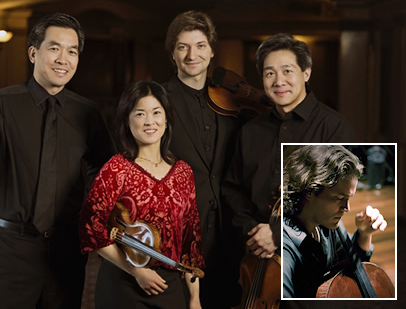 The Howland Chamber Music Circle continues its spring concert series with the Ying Quartet, featuring cellist Zuill Bailey, on Sunday April 28 at 4 p.m. at the Howland Cultural Center in Beacon, NY.
The Ying Quartet occupies a position of unique prominence in the classical music world, combining brilliantly communicative performances with a fearlessly imaginative view of chamber music in today's world. Now in its third decade, the Quartet has established itself as an ensemble of the highest musical qualifications.
Returning to HCMC's chamber series, the Ying Quartet will be joined by cellist Zuill Bailey for a performance of the magnificent Schumann Cello Concerto transcribed for a string quintet. Since his last appearance at HCMC, Mr. Bailey won a best solo performance Grammy Award in 2017 for his live recording of Tales of Hemingway by composer Michael Daugherty.
You don't want to miss this incredible performance, presented in an intimate setting at the historic Howland Cultural Center in Beacon, NY. Get your tickets today! Reception to follow.
Ticket price: $30 adults/$10 students, visit www.howlandmusic.org for more information.
Featured Events
Newest Events
Events at this Location
There are no upcoming Events at this location