« Back to Calendar
The Art of Pysanky Ukrainian Easter Eggs at Art Mid-Hudson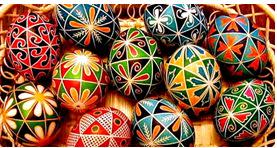 An introductory class to learn about how to make Pysanky, Ukrainian Easter Eggs. The course will discuss the historical origins, traditions, customs, and legends surrounding the making of the eggs. Students will learn about and symbolism of the colors and designs used on the eggs as well as the traditional technique of applying wax and dyes on eggs to create them.
Students must also bring the following to class:
6 small clean jars with lids (11-16 oz jelly / or peanut butter jars with at least 2-3 inch opening) for the mixed dyes.
Empty egg carton to carry finished eggs home in
Students will be working with permanent dyes and dress accordingly, bring apron or protective shirts.
RSVP: Reserve your spot by February 15
Featured Events
Newest Events
Events at this Location
There are no upcoming Events at this location