« Back to Calendar
"DeliKateSSen" at Center for Performing Arts at Rhinebeck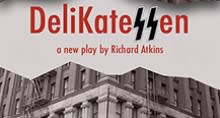 Jan. 18 - 27
8pm Fri & Sat and 3pm Sun
Tickets: $24 / $22
An intimate family portrait of loss and revenge set in a small shop on Manhattan's west side. The owners of Shapiro's New York Deli have survived the Holocaust and are now faced with a new threat posed by a neighboring business owned by people who may, or may not, be whom they seem.

Written by Richard Atkins and directed by Lou Trapani for CENTERstage productions.
May Not Be Appropriate for Young Audiences.
Featured Events
Newest Events
Events at this Location
There are no upcoming Events at this location